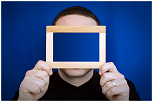 In an overzealous effort to score higher with Google and other search engines some websites and blogs have forgone appropriate placement of their brand identity for generic keywords. This move has left visitors to wonder 'what is the name of this business'!
As you can see, the value of this resulting website traffic was compromised.
I won't name the websites or the blogs that I am referring to, because
that wouldn't be nice
! I will however describe what I saw and explain why it was problematic from a branding perspective:
Scenario 1
: The header of a blog included three different phrases, all of which were treated with equal prominence. It would seem that two of these phrases were keyword phrases and one was, I presume, the brand name. I honestly couldn't tell which was what! There are, of course, situations where a blog header would need to include more than one brand name. I have had to do so myself on
Toronto Marketing Blog
in order to communicate the relationship with Bekhor Management, our affiliated
marketing firm
. In order to avoid confusion between these two brand names, 'Toronto Marketing Blog' was designed to be the larger and more dominant of the two.
Scenario 2: I found many examples where title tags did not match the brand name. As per my explanation below, the title tag is programmed by your website designer and it feeds the copy that search engines use to describe your website in search results. If your brand name is left out of the title tag, it will not appear in search results and you will have lost the opportunity to generate brand name awareness from this type of exposure.
Scenario 3: The copyright line did not match the brand name of the website or blog. If your copyright line needs to reference a brand name other than that of your website or blog, you should also include a line that describes the relationship between the two brands.
Scenario 4: The main copy on the various pages of a website were not consistent in their reference to the brand name. It is understandable that keywords will vary from page to page. Unless this change is handled with care, the reader could be lead to think that the keywords are the name of your business, when they are not.
If your visitors can't easily see your brand name, they won't know your brand name and they most certainly won't be able to remember it.
You can protect your brand identity by unambiguously promoting it at each of the following locations:
Website, blog and newsletter headers and footers
Copy on every page of your website with particular emphasis on the home page, about us and contact us pages
Copyright lines on your website, blog and newsletter
Titles and meta tags (Your title and meta tags are programmed by your website designer. They feed the text that Google and other search engines use to describe your website to searchers in search results.)
Your brand name need not be diluted to score well on Google and other search engines. There are a multitude of ways to balance the branding with the search engine optimization priorities, as can be seen by the sheer number of well-branded websites that are also highly optimized for search engines.
Photo credit (top): brown horse