5 video predictions for 2017 – For lawyers, accountants and architects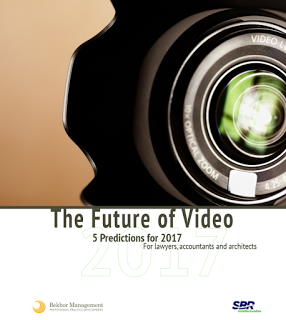 It used to be that hanging a shingle over your door was the marketing plan for lawyers, accountants and architects. Those days are long gone. Marketing has been edging in since the 1990's. Today, not only has marketing become an integral part of the professional landscape, but the pace of change is dizzying. On top of the widely accepted vehicles – websites, brochures and events – there are the more recent arrivals – blogs, social media, podcasts and video. And every other day it seems, there's another new "thing" that you could be doing to build your practice.
So, how do you decide which option to bet on to win? Or, do you need to do a bit of everything?
Recent trends offer some insight. Of late, there's really only been one medium experiencing an undeniable surge in growth with both consumers and business executives.
To be clear, we're not expecting video to do away with the foundation of a professional marketing plan. But, we are expecting that those who jump on it first – with videos strategically aligned with their practices – will build advantage for the life of their firms.
Download whitepaper:
The future of video
, for five predictions that take into consideration professional sensibilities, the services buyer's behaviour, trends in the professional sector and our own first-hand consulting experience.
—
Related articles: