Are we deep enough into the social media game, that there is such a thing as LinkedIn best practices for lawyers? By numbers alone, it would seem that Toronto lawyers are starting to take serious note of the site. Yet still, there remains an underlying strong sense of skepticism.
I hear this a lot: "Does it really work?"
Law firm success on LinkedIn isn't about incomprehensible black magic. It's about strategy.
You wouldn't ask the same question about an event where your market was in attendance. Not only would it be an obvious fit, you instinctively know that it would work as well as you work it.
The same goes for LinkedIn. Your market is there. So, it stands to reason that it would work, as well as you worked it.
Success for lawyers on LinkedIn is attainable, whatever that means to you. Inquiries. Referrals. Networking. Influence.
You can fill your pipeline with the right prospects and generate interest from both talented recruits and the media, along the way. It worked for my firm, our clients and other lawyers within my network.
It stands to reason that it can work for you, too.
This list of LinkedIn best practices for lawyers will provide you with the tools to win, from planning for success to building a robust ever-expanding network and posting engaging content that pops from the clutter.
Looking for law firm marketing support? Our approach is focused on what really works to build and enhance Canadian, professional services firms.
---
LinkedIn best practices for lawyers begins with the right plan… and the right attitude.
1. Establish your goals.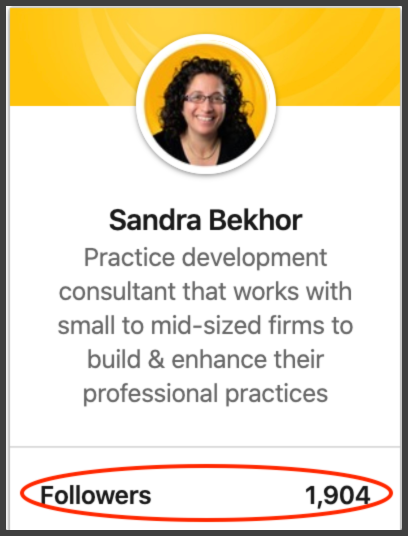 As a lawyer, you set goals for yourself all the time. You have goals for your practice. You have goals for your client files. You have goals for your staff. You probably even have goals for your meetings, your calls and your day.
LinkedIn isn't any different. If you want to succeed, you need to begin by deciding what success looks like for you.
Who do you hope to meet? Prospective clients? Talented recruits? Media? Referrers? Can you describe them? What type? Where? How many?
So many questions. Because, while there may be some best practices, there isn't just one LinkedIn law firm marketing plan. So, the more attention you give to this advance planning, the better you will position yourself to meet your practice goals. Otherwise, by default, you're stuck with some generic goals that don't really fit… well, anyone!
2. Define your identity.
Every law firm has something to offer that no other can provide.
Your professional identity isn't limited to your area of practice, experience, education or location. Your values, life history, and even your communication style shape who you are as a lawyer.
The clearer you get on your point of difference, the better you will be able to convey it to your market; not only on your profile, but through your posts, articles, videos… your very strategy for the site. This tip is at the foundation of our entire list of LinkedIn tips for lawyers.
3. Begin with a 'game plan'.
Nobody wants to have to scratch their head and stare at a blank screen in a panic about what to post.
So, the more systematic you can get from the outset, the more efficient you (and your staff) will be with your time and efforts. What type of content will you post? What format? How often? What is the tone? How will this content be developed? By whom?…
Lawyers that succeed on LinkedIn begin with a 'game plan.' They don't have a magic bullet. They have a turnkey process.
4. Tie it to the big picture.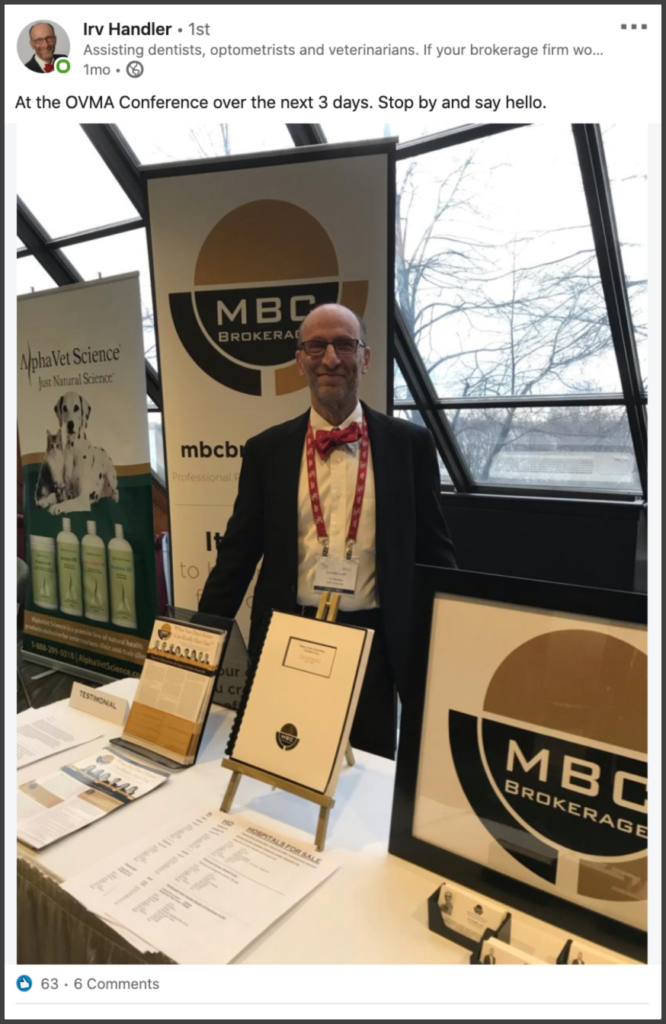 Your LinkedIn profile and activities don't exist in a silo separate from the rest of your marketing efforts or even the rest of the firm. So, take the time to consider how all these pieces fit together and support each other.
How does your LinkedIn plan tie to all your other legal marketing activities, online and off?
How does your profile tie to profiles from others at your firm?
---
How to make your profile jump from the clutter.
5. Show off your best side.

Don't let your headshot be an afterthought. It's every bit as important as any other content on your profile. Your choices about your photo will tell the viewer something about your professional identity and your character.
As you plan for your photoshoot, keep the following in mind:
Avoid busy, colourful backgrounds (or clothing)
Use a high-quality image
Capture your likeness
Keep it current
Wear appropriate, professional attire
Crop from the shoulders up
Ensure the photo is well lit
Pay close attention to facial expressions and body language
Consider your brand colours
Just think of all the people who will be viewing your profile. 1,000s, sometimes from a single post!
A great headshot will help make your profile more personal, so you can begin to connect with people you haven't met face-to-face. It's well worth taking the time to ensure that your photo reflects the professional identity that you bring to your day-to-day work life.
6. Treat your title as the headline.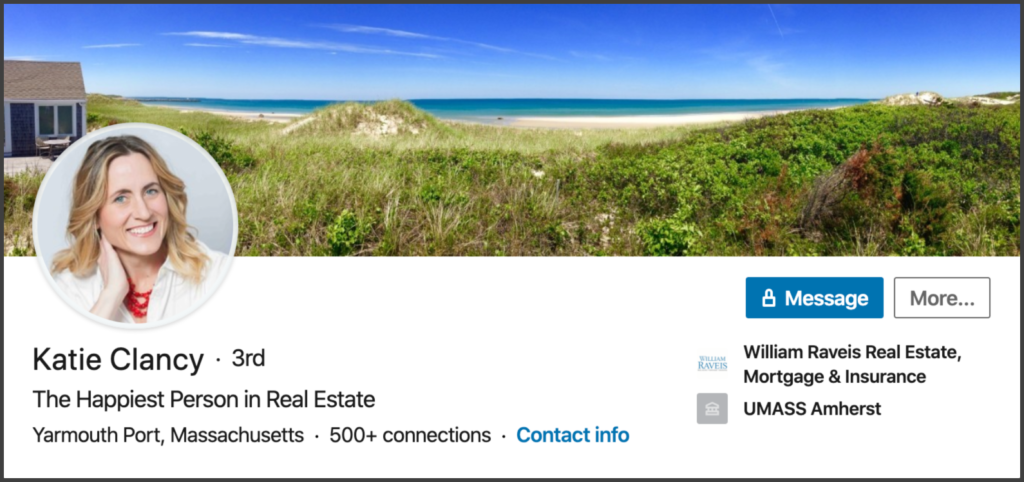 Also known as the LinkedIn headline, this section of text at the very top of your personal profile allows you to describe what you do in 120 characters or less.
But, that doesn't mean you have to be boring!
Remember, this is your personal LinkedIn page. It's not a tax return! You can take some creative liberties that will help you to better connect with others.
It's not just your connections that see your LinkedIn title. Anyone who comes across any of your posts or comments does, too. That includes the connections of your connections.
If you were paying thousands of dollars to reach all of these people (who may be prospective clients, candidates for hire, referrers or media), would you use a headline that was literally your job title? "Family Lawyer Toronto." Or would you try to pop from the digital clutter with a title that said more? Like a headline on an advertisement?
7. Write your profile like an ad.
Think of your profile not as a resume that dutifully lists your career every step of the way, but rather as a professional advertisement promoting all that you have to offer.
Write your profile in a way that captures the attention of your audience, in a way that mind-numbing data never could. When done correctly, you won't just be summarizing your history, you will be selling it.
The right message and the right tone will take you from being just another profile in the vast ocean of lawyers marketing themselves on LinkedIn, to a talented individual that can make a difference.
8. Be personal to be interesting.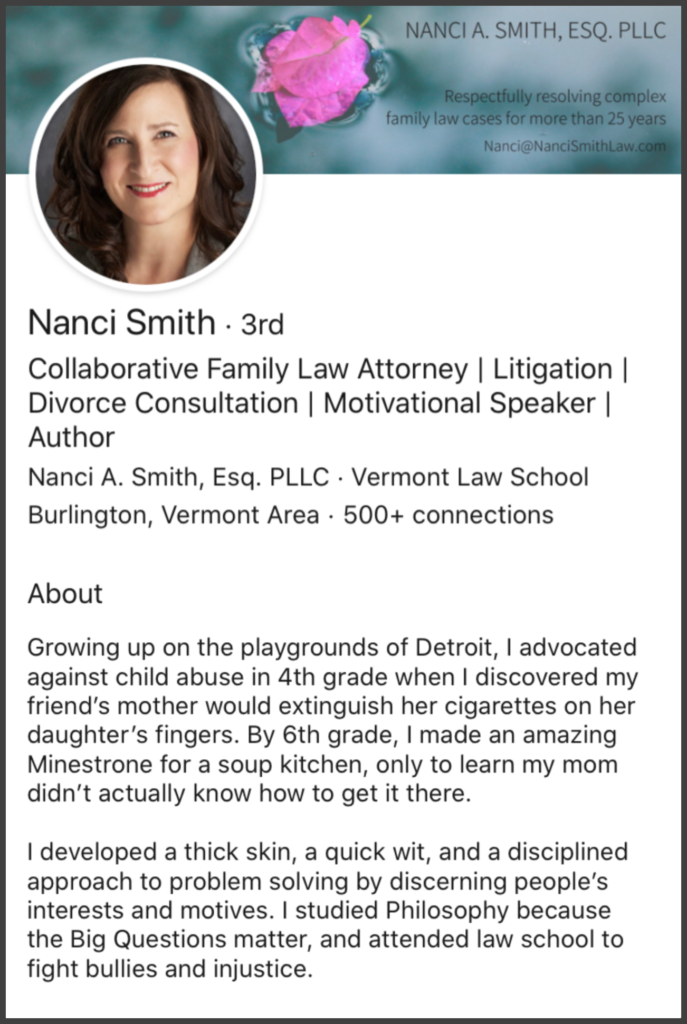 LinkedIn isn't about companies. It's about people. So, if you use a more personal approach, you're more likely to get noticed by the people that are your 2nd- and 3rd-degree connections.
Each section of your profile represents another opportunity to win over new clients and referrers, not just with information, but with a unique point of view and style.
The example above takes a daring approach. In being open and honest, this lawyer demonstrates her sensibilities and what clients can expect from her. That comes across as true authenticity. But being personal on your profile will mean something different for you.
9. Don't get lost in the clutter.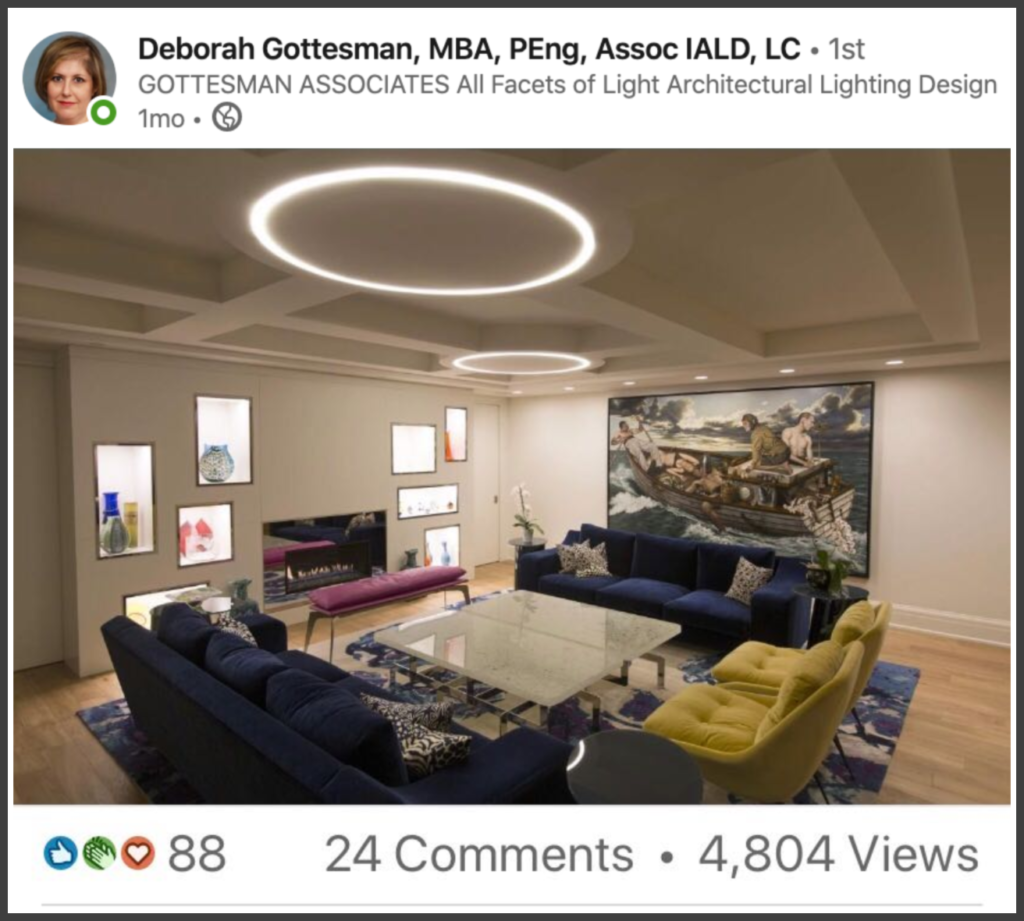 Search Engine Optimization (SEO) matters on Google. It matters on LinkedIn, too!
Communicate your skills using searchable phrases. Describe your work-related experience in detail for your current and past jobs. Also list your location, degrees, diplomas, certificates, languages and interests. Clearly outline major accomplishments, not just to cover key areas for the reader, but to cover keywords for the robots.
But that's not the only way to get found as a lawyer on LinkedIn:
There's also the multiplier effect. Your posts will go further when you collaborate with others. Speaking at a conference with peers? Post a photo or video after the fact and tag your colleagues to encourage likes, comments and shares, expanding your reach to all of their connections, as well.
Find and join groups that are relevant to your work, your location or your personal interests. Engage group members in order to expand your reach to individuals who may not even be connected to your connections.
10. Be reachable.
Why are you on LinkedIn? To expand your network with suitable prospects, referrers and more. So, when you're completing your LinkedIn profile, be sure to include the following details in the 'contact info' section, so people can choose how they wish to reach you next:
Work email
Phone number
Website URL
All business-related social media links
Remember to update this section of your profile immediately, should you move to a new location or firm.
---
Connect, connect, connect!
11. Start with the basics.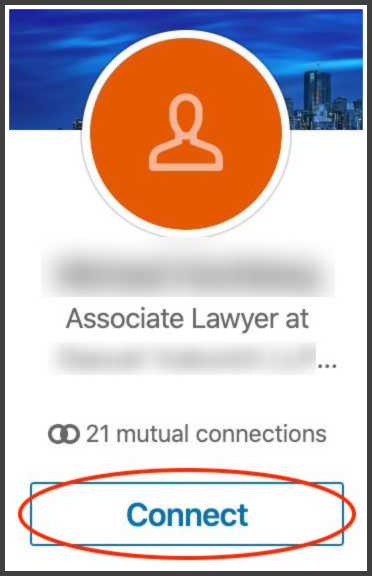 If you have less than 100 contacts, there are probably lots of opportunities to just get started with the basics. Begin by reaching out to current or past classmates and colleagues. Here are some ideas about how to invite these individuals to connect:
12. Build your network.

In addition to finding professionals that you already know in the real world, you can also network with others that you have yet to meet.
If you read your feed, participate in groups and search for content that's of interest to you, you will come across lawyers and complementary professionals who work in the same city or with whom you share other synergies. Why not introduce yourself?
Here are some ideas about where to look if you're interested in building your network:
Members of your groups
Conversations resulting from your connections' posts
Relevant articles posted by strangers
Use the same understanding of networking that you bring to offline events and you will build meaningful relationships that continue to result in new connections.
13. Step out of your comfort zone.
So, what else can you do to build up your network? Identify people you want to meet to further your career and meet your practice goals. Yes, it's as simple as it sounds. Make a list. If they are on LinkedIn, that's good news! It means you have options:
Check if any of your connections are connected to them. Can you ask for an introduction?
Send an invitation with a short note that explains why it would be of mutual benefit for you to connect.
Upgrade your account to premium and introduce yourself through InMail.
Once again, bringing the same sensibilities about networking that you bring to offline events will guide you towards influential people that have the potential to help you build your practice.
---
LinkedIn is considered one of the best social media tools for professionals to connect, promote and keep-up-to-date. As a lawyer, you already know you should be on LinkedIn, and you probably already are. The issue is how to make it work for you… or work even better for you. By following some of these LinkedIn best practices for lawyers, you will have the tools to do just that.
At Bekhor Management, our approach is focused on what really works to build and enhance small to mid-sized, law firms and other Canadian, professional services firms. We invite you to book an initial consultation if you're looking for assistance with any aspect of your legal marketing.
—
Articles related to LinkedIn best practices for lawyers (# tips for success):
LinkedIn for lawyers: What's next? (13 pros chime in!)
Legal marketing – what's next? (42 legal marketing pros chime in!)
Finally! A social media group for lawyers that's actually social. (Press Release)