The debate is over. LinkedIn is for lawyers!
The question used to be, should I be there at all? Now, it's how can I use the site better, to go beyond the occasional like and actually market my law firm? Well, one way is to learn from people who have figured out how to do that for themselves. So, here are tips from 13 individuals that have agreed to share what has worked for them. We have a diverse group of contributors here, from marketing, finance and law, all focused on LinkedIn for lawyers.
Quotes have been organized in alphabetical order, by author's last name. Enjoy the read!
At Bekhor Management, our approach is focused on what really works to build and enhance small to mid-sized, law firms and other Canadian, professional services firms. We invite you to book an initial consultation if you're looking for assistance with any aspect of your legal marketing.
LinkedIn for lawyers: What's next?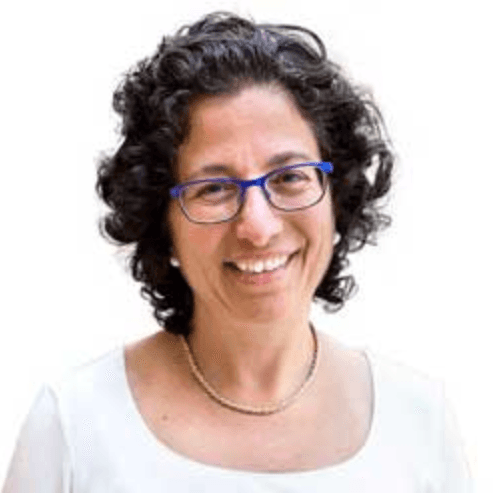 Sandra Bekhor, Practice Development Consultant at Bekhor Management
 "Do one big, bold thing. Then, tie that big, bold thing to the rest of your marketing, online and off.
Last year, I started a group on LinkedIn: Keeping it Social: Practice development for lawyers TORONTO. (As an aside, practising lawyers and articling students in Toronto are welcome to join, here.)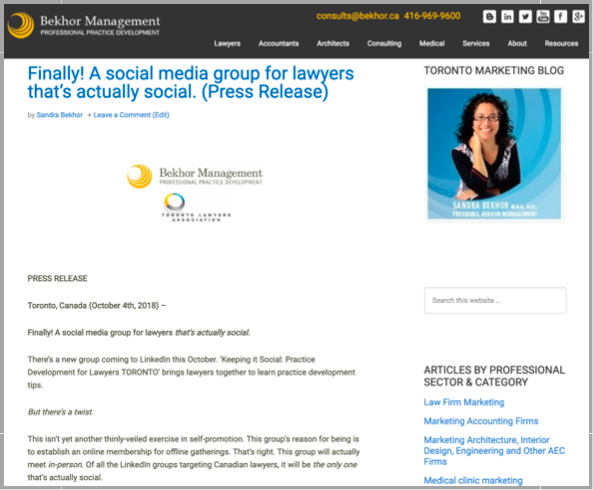 While starting a group isn't, in and of itself, a big, bold thing, our intention was to be just that.
Big and bold.
I didn't start this group on my own. My firm, Bekhor Management, teamed up with Toronto Lawyers Association. There is power in strategic partnerships. We had a shared vision to use LinkedIn as a way to extend our reach… by being social, not self-promotional. Once they joined the group, members would be invited to offline events to learn practice development tips and to network.
Why is that big and bold?
It's a complete program. It has a strategy and an action plan. It reaches the right audience, offers something compelling and has a built-in reason to keep going. That's not the same as sitting yourself down once a week to try and post something, anything, just to be in the game.
If you develop a solid program for your LinkedIn activity, you will always have a reason to share photos, video and stories. You will always have people to tag, magnifying your reach. You will regularly make new connections that connect you to others. There may even be media coverage.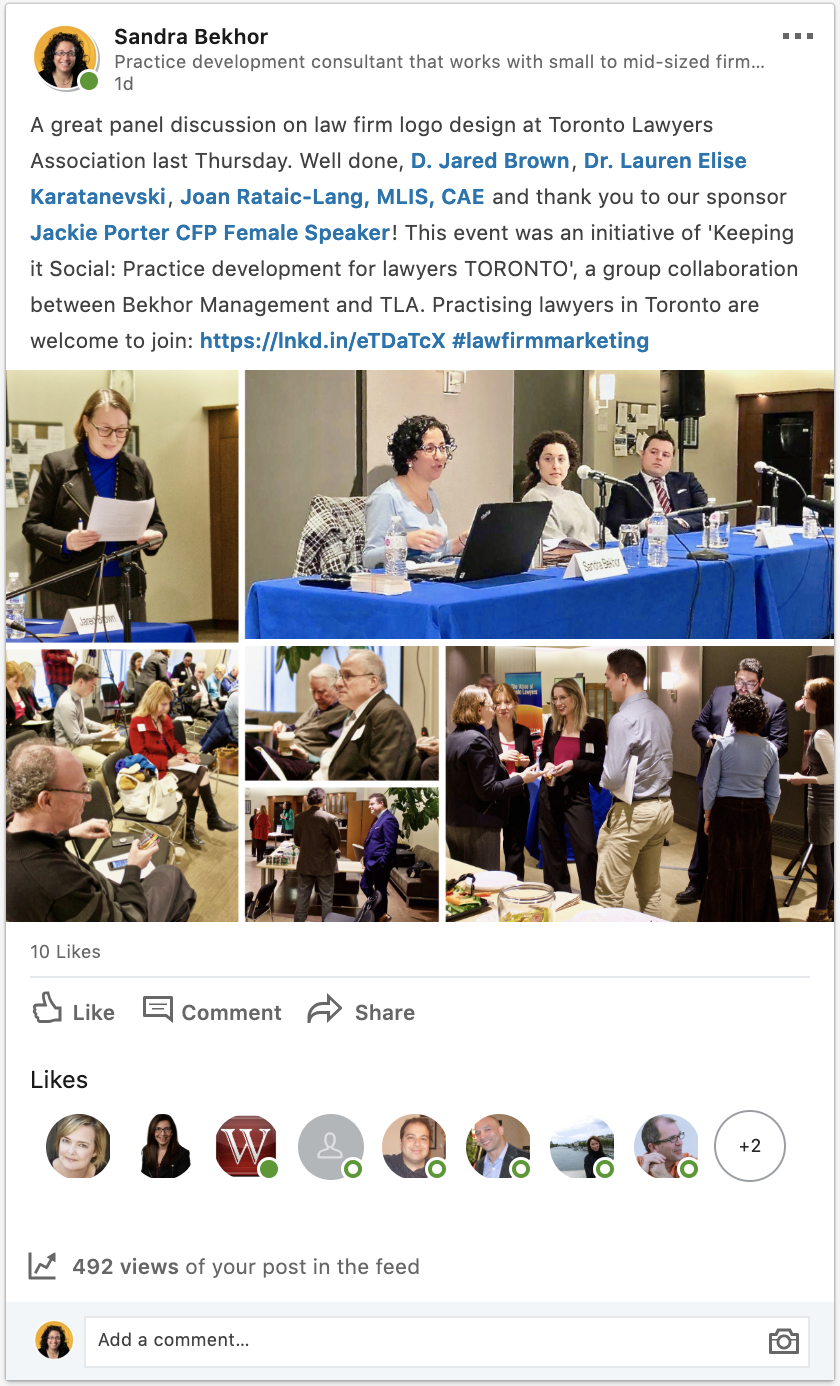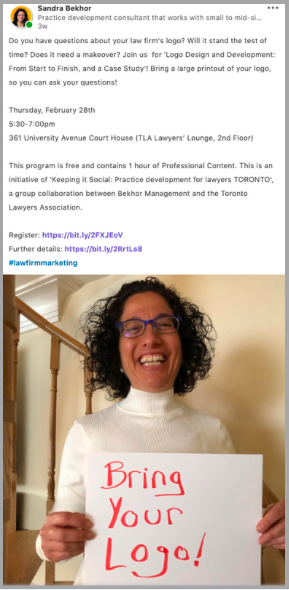 The point isn't to start or even join a group. It's to pick one big, bold thing and to do it in a way that will have tentacles that reach all aspects of your marketing, online and off.
This isn't Vegas. What happens on LinkedIn, shouldn't stay on LinkedIn!"
---
Eva Chan, Social Media Strategist, Consultant, and Trainer for Legal Professionals at Eva Chan
"LinkedIn is a professional social networking platform. So, lawyers, that means you need to actively network and avoid solely lurking or amplifying your own content when using LinkedIn. When you log into your LinkedIn account, think of it as though you just walked into a networking event.

Staying silent will not get you very far in meeting new people or getting others to learn about how you can help them. Talking only about yourself will not build or nurture relationships; it's very important to engage with others. Read the content they share, offer your thoughts, and reflect on how you could support them. Even a simple click of "like" is a head nod in the right direction, especially with those you don't (really) know. In short, to reap the rewards on LinkedIn, you need to do more than show up on the platform. You need to find the courage to engage, going from a like to commenting and sending a direct message to continue the conversation. From regular, thoughtful and supportive engagement, you will start to build relationships, and perhaps even a community. The power of LinkedIn really begins when you start to engage."
---
Dina Eisenberg, Delegation Coach at Outsource Easier
"Become a video star on LinkedIn. We all know how important the 'know, like, and trust factor' is to gaining clients.
Lawyers have an extra hurdle in that area, since there is still a negative perception about lawyers in the marketplace. Change that by being visible. Create informative videos that speak directly to the legal problems you help clients resolve, so that you become a trusted friend on LinkedIn. Not one or two videos, though. Aim for 1 a day for two weeks, and watch your profile views go through the roof."
---
Tracy Enos, LinkedIn Marketing | LinkedIn Business Development | LinkedIn Lead Generation at Local Hoopla Media
"LinkedIn: What You MUST Do Before Creating or Revamping Your Profile 
In nearly a decade since I have been on LinkedIn, the platform has grown from 187 million to over 575 million members. What was once a place to add your online resume has now morphed into the largest professional networking platform of its kind. And to many, it's still a mystery how to use it.
The belief is that it's still a place to add your online resume and find a job. While this is true in part, most businesses still treat it this way and not as a sales and marketing tool.
99% of all your activities in LinkedIn are tied to your personal profile.
Your profile photo, your name, and your headline are typically what someone will see first. This is your first impression, and if well done, will compel a member to visit your profile and possibly take action. 
The first step in writing your profiles and articles is to Identify Your Audience. Too often I see profiles and articles that are written for their industry and not to their ideal client or customer in mind.
You must know your prospect or referral partner intimately. If you want to consistently attract your ideal customers, you need in-depth knowledge of who they are, their deepest fears, pain points, and what keeps them up at night.
Without this knowledge, you'll waste hours trying to figure this out. I call this Hope Marketing. Hope marketing is when you throw some marketing strategy at the wall and you hope that it sticks or works.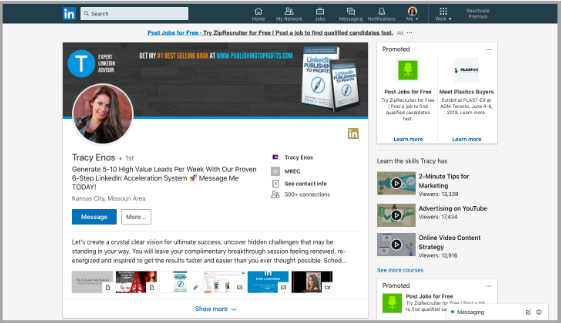 Take a moment to think through exactly who it is that you want to target. Who is your ideal client or referral partner? If you answered 'everybody', 'any lawyer or attorney' or 'every Chicago business owner', that's NOT the right answer. 
Get the picture?! If all you can come up with is the above, take a closer look at your clients or partners right now. Think about the types of people you really like working with and who are your best clients from a financial perspective. Now it's time to build a real 'client or referral partner getting' profile."
---
 "Consider your prospective business clients' dilemma: whom to hire? You? A competitor? Being chosen depends on how you market yourself. Increasingly, they rely on LinkedIn.
In turn, what should you do to market yourself better on LinkedIn, the currency of professional business decision-making?
Tips to craft a compelling LinkedIn profile:
Before anyone trusts your professional guidance, you must demonstrate your value. Don't copy your resume, bio, or your firm's website to LinkedIn. Make it complement them—paint a memorable LinkedIn self-description:
Why you do what you do
How others confirm how well you do that "why"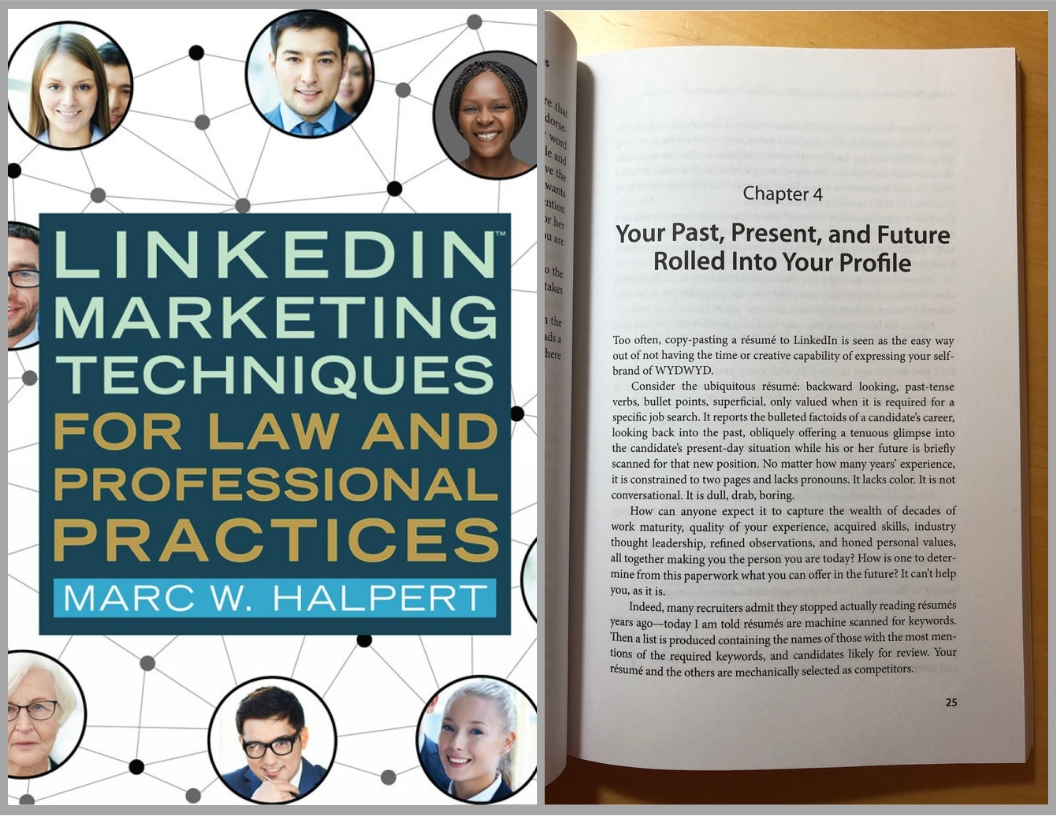 Capture attention: experience, work quality, skillset, and thought leadership. Start with your LinkedIn Headline (never "Partner at XYZ Firm"), then expand your career themes and unique perspective, iteratively, in each remaining section.
Consumers rely on social media proof when choosing a service provider. Prospects are influenced by Recommendations and Skills endorsements on your LinkedIn profile from colleagues and clients.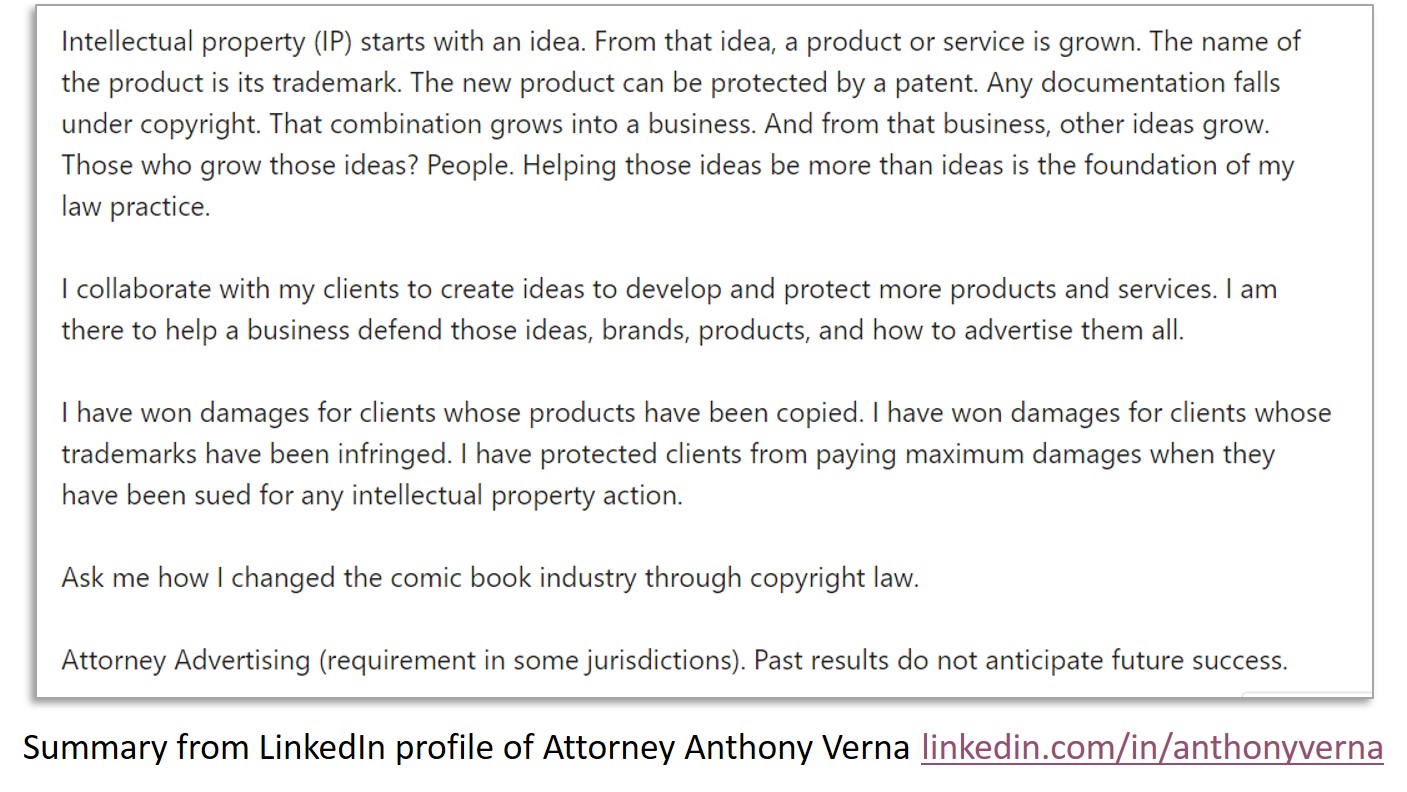 Maintain your LinkedIn profile ethically, never mislead or infer unattainable conclusions. Follow bar association ethics rules in your practice jurisdictions.
After meeting a prospective client or referral for the first time, invite him/her to connect with a warm message, highlighting the conversation. Later, forward articles of interest to the new connection to on-board him/her. Stay memorable.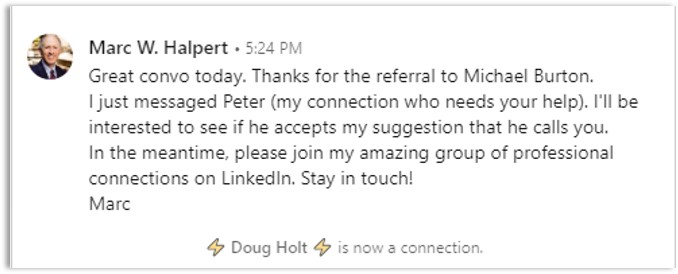 Conclusions
LinkedIn is a flexible marketing power tool, when used in an engaging way. Your profile is a career story in progress: you morphing as a more seasoned professional and your professional relationships to their next level. Today's LinkedIn best practices can help you rise to the top of the prospective client's decision chain."
---
"A lawyer should be an advocate first, someone who is capable of identifying and recognizing the strengths of different positions, even if necessarily advancing one of them. I see this as substantially distinct from an ideologue, who is committed to a singular position without any proper contemplation of their own position, or of the critiques of their position.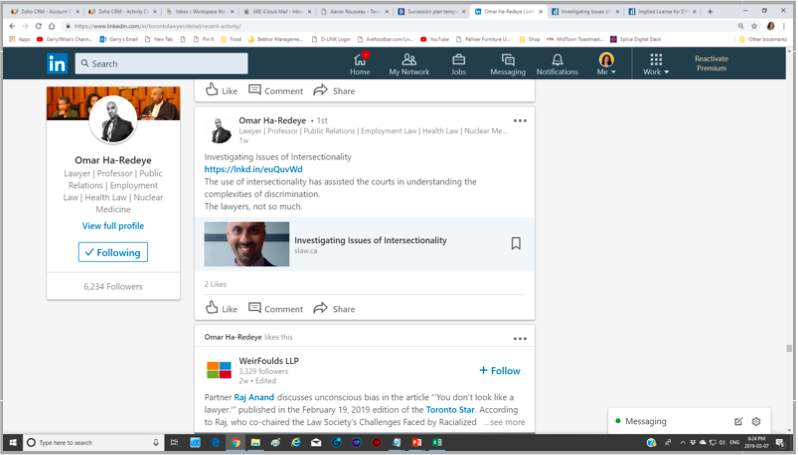 Although some clients may prefer the latter, believing this is the best way to advance their cause, the reality of litigation in Canada is that intelligence and careful reflection are far more useful tools in dispute resolution than sheer force. Demonstrating these aptitudes, both in person and online, should be a natural extension of the lawyer who exemplifies these skills.
I don't necessarily seek out controversial topics or discussions, but when they occur they can in fact be intellectually stimulating and thought-provoking. There are particular difficulties in doing so online, as the medium itself does not lend to important body language and facial cues, but the convenience of doing so means that many of the important conversations of our day find their way online.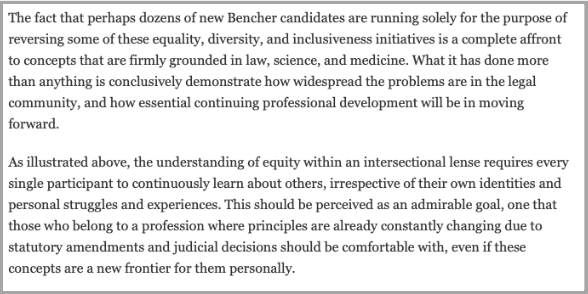 My suggestion is that if you have the stomach for it, even if for a limited time, engagement with colleagues and peers who adopt a similar approach can be an enriching part of professional practice and continuous learning. The trick always seems to be in collecting the appropriate individuals who can be mutually respectful while insisting on disagreement."
---
Kristy McLaren, Law Clerk and License Paralegal
"A couple of months ago, I was asked to connect on LinkedIn with someone I didn't know; he works in photography. It took me a month or so to say 'yes'. When I finally did, he immediately sent me a message to introduce himself. As that simple introduction never seems to happen (and I used to be guilty of the same thing), I thought, "nice touch".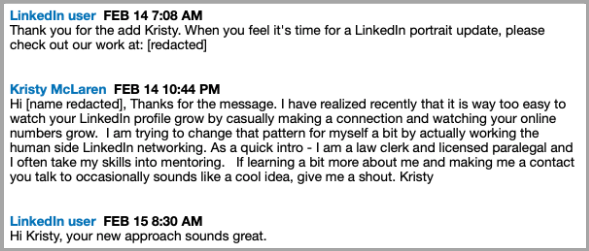 About 3 weeks ago, I found myself wondering about my own LinkedIn network and the amount of people I have never met before yet am connected with. This number is easily half or more of the people that I have taken the time to connect with, or received a request from. I wondered what the point of having a LinkedIn network was, if I know nothing (or next to nothing) about many of these people. How does that help me or them?
This launched me into a project of introducing myself to people in my network with no expectation, but ultimately with hope that at least some of my network would like my idea (not be creeped out by it), and say "hi" back. Little by little, I am private messaging all of the people in my network with this goal in my mind. I am, so far, blown way by my results and what I am learning…which is that my network is full of people who think that my idea of actually saying "hi" and wanting to network is amazing. These people are engaging in conversation with me, and some are becoming people I have found commonality with. I finally have a sense that I am using LinkedIn for the purpose it was intended for: to meet people in a professional sense and truly expand my real network."
---
"1) ABP… Always Be Posting 
Your community won't keep you in the back of their mind unless you consistently give them a reason to think of you, so post regularly. If you struggle with being consistent, consider using an app such as Hootsuite that will schedule your posts, or hire a marketing student or professional to help you, depending on your budget.
2) Don't get lost in the crowd with a general message. Think of who your target audience is and speak to their desires and pain points. 
3) Avoid Boring Message Syndrome. People won't listen to you unless you have something compelling or interesting to say. 
4) Grow your community by getting involved with groups that your target audience belongs to. I specialize in working with female legal professionals, so I am constantly commenting on posts in the OBA legal group or Women's Law Group, for example. Commenting on posts and sharing your posts with groups is a great way to grow your community.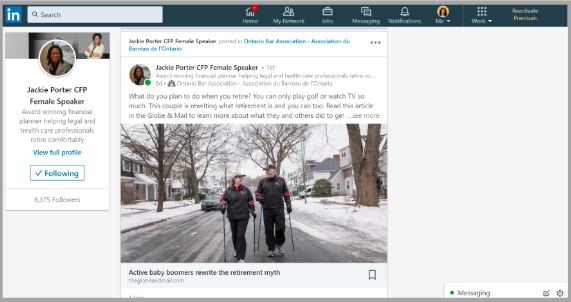 5) Don't forget to update your picture. Nothing is worse than a picture of you that does not reflect your current brand or messaging. A picture is truly worth a thousand words. 
Happy Posting!"
---
Ari Singer, Civil Litigation and Dispute Resolution Lawyer at Singer Katz LLP
"1. It takes time. That's because this is part of your job;
2. Find out what your social selling index is and how it's calculated;
3. Post original content and not just a link to your website;
4. Interact with other users – like, share, comment and reply;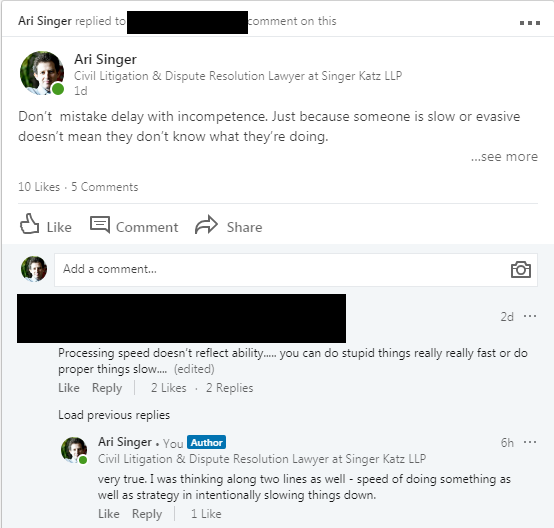 5. Make sure you complete your profile – simple but often neglected. Be accurate. P.s. Have real contact information;
6. Be genuine. I go for the I'm trying to be funny but know I'm failing variety;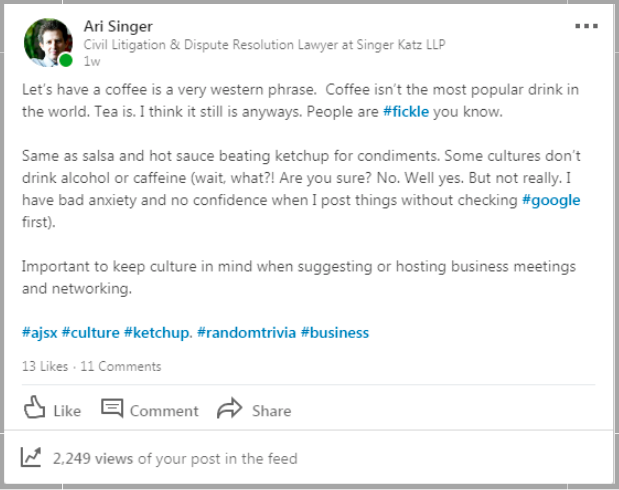 7. Do not send a marketing request along with your invitation to connect without even saying hi first; and
8. Avoid religious and political discussions unless you're just looking for an argument.
---
Kathryn Sintz, Marketing Consultant at 

Creative Sintz Consulting 
"Speak human and be authentic! Use your LinkedIn profile as an opportunity to set yourself apart from competitors and to get people to like and trust you. Lawyer profiles that are filled with obscure words and legal jargon are meaningless to clients. Write the content in your profile to your clients and potential clients—not to other lawyers. Don't begin every sentence with your name, and use overused phrases such as "he/she is uniquely qualified" and "has the depth and breadth". 
Select words and phrases that your targeted audience might use, showing them that you understand their business, their industry, and the issues that keep them up at night. Use short sentences and paragraphs and get to the point quickly. Having a "one-read" rule can help. If any sentence takes more than one reading to understand it, rewrite it. 
Equally important in developing your profile is to show your audience that you are more than just a capable lawyer. Give them a little something about who you really are. Include information about volunteer work, hobbies, and interests. You never know what may prompt a connection with someone. After all, people ultimately hire people they know, like and trust."
---
Trevor Tynes, SEO Consultant and Coach at Trevor Tynes
"In your Headline, rather than have your position and/or firm, include who you help (your target market), how you help and, if possible, attach a quantitative number. 
Now, click on the LinkedIn search bar, click 'Content' on the drop-down menu and search "recommend a [practice area] lawyer" without the quotation marks, or something similar. Put yourself in your clients' shoes and brainstorm various ways you and your services are searched. 
Automatically, you'll find people in the market, searching for lawyers just like you, in need of your expertise and services.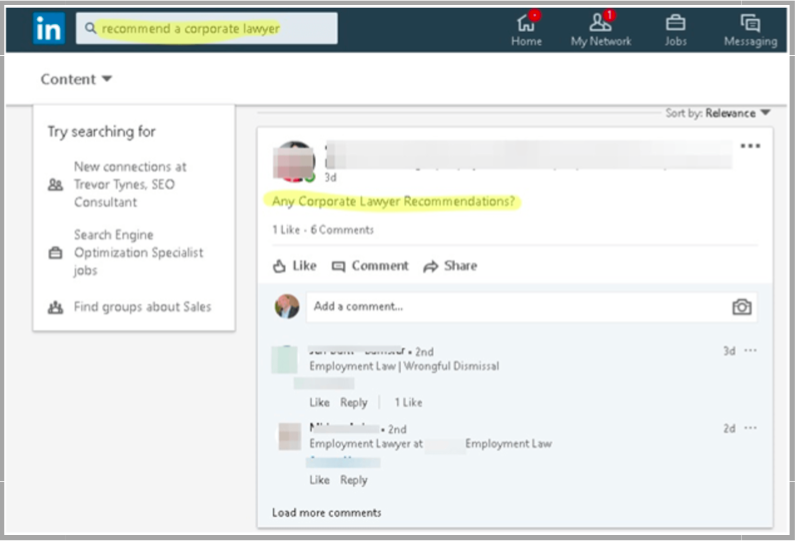 With your potential client-focused Headline speaking directly to them, Like, Comment and send a personalized note with your invitation to begin your online-to-offline relationship toward a new file.
Bonus Tip: If you're an attorney in the U.S., LinkedIn offers the Pro Finder service to help people find professionals based on what they do. Currently, it's only available in the United States under specific categories. Here are the practice areas currently available in their Legal section:

Follow these steps below to have LinkedIn notify you by email when Pro Finder becomes available in Canada, or whatever country you practice. 
Go to LinkedIn Pro Finder… 
Find your wonderful profile picture at the top-right and click your amazing name, then click on "Are You a Pro?"

Once you're taken to the next page, click the 'Apply now' button… 
Once clicked, you'll be taken to another page, letting you know that all you have to do is wait for the glorious time when LinkedIn emails you with the great news that Pro Finder is available where you practice."
---
Michael Walsh, President and Broker of Record at Exclusively Buyers Inc
"Give your connections tidbits of free information, then weave a more comprehensive explanation into your practice as a billable service. I own a residential real estate brokerage, so I'll use a real estate transaction as an example.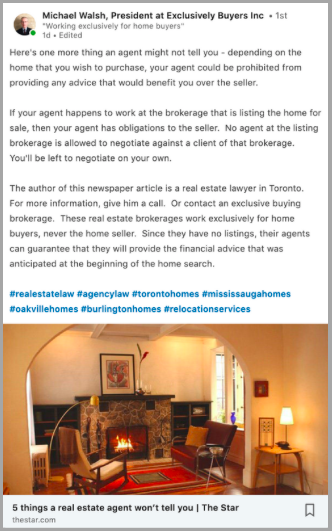 Lawyers are typically introduced to a real estate transaction after the offer to purchase has already been papered. The lawyer's job is to transfer title and disburse the funds. Consumers generally do not have a frame of reference to differentiate the quality of these services. So, some lawyers decide to compete on price.
Never a good idea. No matter how opaque the value proposition, legal services are not a commodity. 
Try this instead: Use LinkedIn to post about some of the unseen legal risks associated with real estate transactions. Issues that can cost consumers untold thousands of dollars. How about 'dual agency'? It's topical and it's incendiary.
I've yet to meet a lawyer who thinks that 'dual agency' in real estate brokerage is a good idea; it's crystal clear that the practice benefits the brokerage, at the expense of the clients. But it's simply not top of mind when planning to buy or sell a house. Have you ever posted about 'dual agency'? Maybe you should. 
Any mention of conflict of interest is a lightening rod for consumers. It could spark that initial inquiry that leads to a happy client (and billable hours)."
---
"To reach new audiences, it is important to post often and regularly. What works at Wise Law is that we use original content and design to engage our followers. We break down our posts into a number of series that repeat regularly, while featuring new and exciting content. For example, our series called Law Fact of the Day, and top 10 Legal Headlines. It provides daily, law tips. We have a base design for these posts which allows us to schedule them easily, without having to recreate the style and format every time. This helps us plan and schedule all our social content in advance so we can keep up with our commitment to provide new tips every day.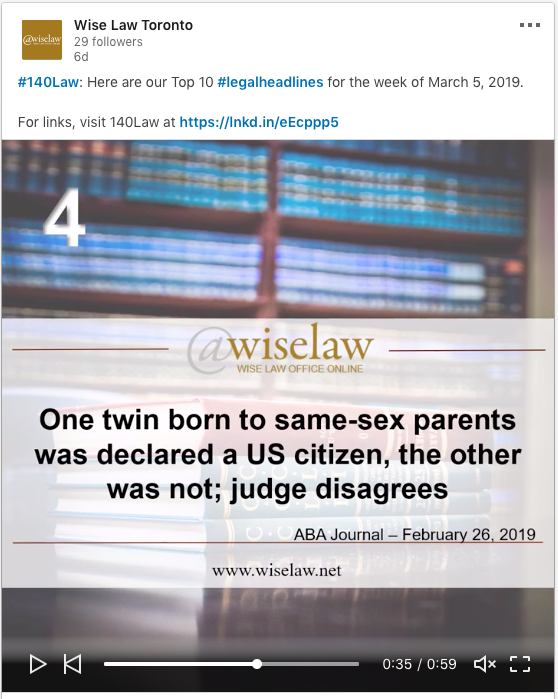 We also differentiate our posts with the use of text, images, and video, while staying true to our core values and firm's identity. Our goal is for our posts to reflect our firm's personality. We are careful to highlight and use our logo and firm colours consistently.
We have found that creating visually appealing images, mixing media and keeping content short and to the point enhances engagement. Most of our videos last 30-60 seconds. They incorporate moving images and sound, a perfect formula to capture someone's attention. Text posts are also effective, when paired with an image that helps to deliver our message. Including short excerpts with a memorable visual, piques interest for content that requires clicking for video or articles. Our key objective when we engage our audience is, not just to generate website visits and followers on our other social media platforms, but to get our readers to know the people behind our content."
---
I'd like to thank everyone that contributed to LinkedIn for lawyers: What's next? (13 pros chime in!). It is certainly interesting to note that each and every tip presented an entirely different viewpoint about how lawyers can leverage LinkedIn over the coming years. Your input was appreciated and, we expect, will be well used by our readers!
At Bekhor Management, our approach is focused on what really works to build and enhance small to mid-sized, law firms and other Canadian, professional services firms. We invite you to book an initial consultation if you're looking for assistance with any aspect of your legal marketing.
—
Articles related to LinkedIn for lawyers:
Legal marketing – what's next? (42 legal marketing pros chime in!)
Finally! A social media group for lawyers that's actually social. (Press Release)