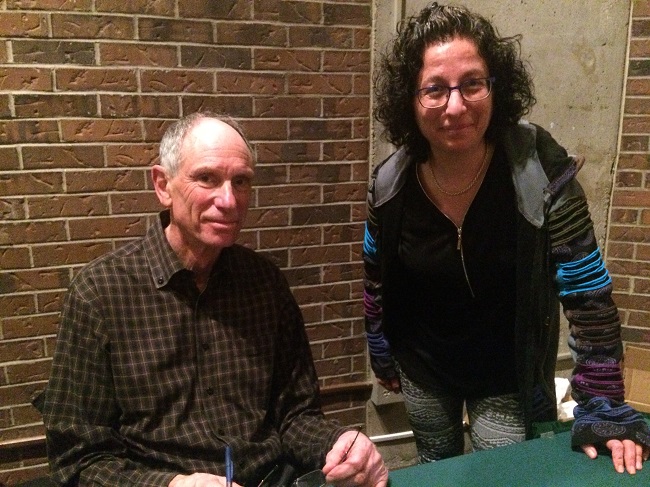 From left to right: Joseph Goldstein, Sandra Bekhor
I spent the weekend at a mindfulness retreat in Montreal. It was a roaring success… as 'roaring' as 300 meditators can get, that is!
While there was lots to learn and think about. One insight has lived on for me in particular. The seeing meditation. Or, mindful seeing, if you prefer.
What's mindful seeing? Just. Seeing.
Without biases.
Without judgement.
Without baggage.
While we'd all like to think we're above all that, let's face it… we're not. In his humble manner of teaching, Joseph shared with us how many years ago he noticed how (while on retreat, no less), he would enter the lunchroom and notice his own judgements of people, from not liking what someone was wearing to his personal thoughts about their lunch choices!
When we see, we don't just see what is before us. We see what our minds fill in for us.
Imagine the ramifications of mindful seeing. Instead of seeing what you don't like, what you're worried about, what you think and what you wish for, you see people, places and things for what they really are.
Think about how even one person bringing this attitude or practice into the office could shift things. Real collaboration and listening translates into coordinated teams, quality service, reduced conflict (or at least skillful conflict) and, even, better interviewing. Down the road it could improve retention of staff and clients, alike.
So, while the retreat is over and it's back to business as usual for me… it's also not. Joseph's generous teachings live on. Through my own experience, they transform into insight.
While I wanted to share this takeaway with our readers, this was also meant as a thank you letter to Joseph Goldstein and the wonderful group at True North Insight. Merci bien!